Chester "Chet" A. Berg, Educator
June 2, 1918 — August 5, 2010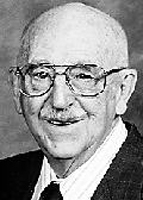 Chester A. Berg, 92, of Battle Creek passed away quietly Thursday August 5, 2010 at home after a long illness. He was born June 2, 1918 in Alpena, MI to John Frederic and Ida (Eller) Berg.
Chester spent his boyhood in Alpena where his father had a neighborhood meat market and from early age, young Chester delivered meat for his father, first on foot, then by bike, and then car. Chester also learned the meat cutting trade from his father and later he was able to work his way through college plying this trade.
After graduating from Alpena High School in 1937, Chester enrolled in what was then Michigan State Normal College in Ypsilanti. During summer breaks, he would work as a meat cutter on the Western States, a cruise ship that sailed the great lakes from Detroit to Mackinac to Georgian Bay and back.
After war declared in 1941, Chester enrolled in what was then the Army Air Force and spent 4 years in England in the Air-Sea Rescue Command whose mission was to rescue pilots who went down in the English Channel. Here Chester received the Bronze Star for meritorious service.
After the war, Chester returned home and married his college sweetheart, (Violet Marti) who survives and returned to college to finish his degree.
After graduation, Chester first taught at Willow Run Schools for two years and then came to Battle Creek Lakeview where he taught Industrial Arts (Woodworking and Drafting) for 33 years. Chester served on the board of the then called School Employees Credit Union as its secretary for 20 years and worked to help spread its services throughout Calhoun County and beyond.
Chester had two brothers and four sisters and two grandsons who preceded him in death. Chester and his wife had five children all of whom graduated from Lakeview High School. They included Dr. John (Anne) Berg, of Ocala Florida, Janice Kitching, of Sugarloaf Key, Florida, Jeanne Berg, of Coldwater, Jeffrey (Cheryl) Berg, of Parchment, and Nancy (Chris) Keller, of Battle Creek. They have seven grandchildren and four great-grandchildren.
Chester and his wife are members of First United Methodist Church in Battle Creek and served on the Missions Committee before he became ill. Chester enjoyed woodworking and loved helping his children with house projects. He and Violet also enjoyed traveling especially to visit old friends and army buddies he had met in England during the war.
Cremation has taken place and a memorial service will be held when the family can gather for a service. Memorials may be made to Lifespan Good Samaritan Hospice or First United Methodist Church. Arrangements are by the Richard A. Henry Funeral Home.
---
Thanks to Jack Hubbard and Jan Lefevre for memorial contributions.