David Edgar Brophy, Educator
May 9, 1922 - October 26, 2011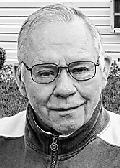 David E. Brophy, 89, of Battle Creek died at Bickford Cottage on Wednesday, October 26, 2011.
He was born May 9, 1922, in Marion, MI to Harrison and Ethel (Friend) Brophy. He grew up in Evart, MI and was a graduate of Evart High School. Dave enlisted as an aviation cadet with the U.S. Navy in 1942 and then reenlisted in the U.S. Army Air Corp. He received his Bachelor's Degree in Teaching and in 1954 his Master's Degree in School Administration from Michigan State University. From 1948 to 1953 Dave was employed as a teacher and coach at Olivet High School. In 1953, he began his 34 year career at Lakeview Schools, where he worked as a teacher, as well as being involved as a coach for the football, baseball and basketball programs. He retired from Lakeview School Administration in 1987.
Dave was united in marriage to Carolyn A. Pratt on June 14, 1949, in Olivet. He was preceded in death by Carolyn, his wife of 56 years, on February 15, 2005. Surviving are three daughters, Lynn (Jerry) Johnson of Cedar Rapids, IA, Wendy and Elizabeth Brophy, both of Battle Creek; three sons, David P. (Kelly) Brophy of Battle Creek, Daniel E. (Lynne) Brophy of Ft. Wayne, IN, and Robert A. Brophy of Grand Haven; grandchildren, Megan and Ben Brophy of Battle Creek, Collin and Nathan Brophy of Fort Wayne, IN, and Joi Johnson of Cedar Rapids, IA; sisters-in-law, Gail Brophy and Norma Brophy and brother-in-law, Gerald Pratt; as well as many nieces and nephews. Dave was also preceded in death by two sisters, Christina Watson and Mary Jo Shook and by three brothers, Franklin, Paul and Gary Brophy.
Dave was a member of the First Congregational Church, where he was a former Sunday school teacher and member of the Outreach Committee. He was a member of American Legion Post #54, Lakeview Business Association, the Retired Teachers Association, MSU Alumni Board of Education, served on the Battle Creek Housing Commission, started the Lakeview Adult Education Program and was a former member of the Ft. Custer Honor Guard. He enjoyed golfing in the Senior Golf League in Battle Creek and playing golf with a large group at Mullenhurst Golf Course in Delton. Mostly, he loved spending time with his children and grandchildren, being a dad and grandpa as well as watching MSU sports.
Friends will be received 6:00-8:00 p.m. Friday, November 4, 2011, at the Farley-Estes & Dowdle Funeral Home. Memorial services will be held at the First Congregational Church 10:00 a.m. Saturday, November 5, 2011.
In lieu of flowers, contributions in memory of Dave may be made to SouthernCare Hospice, 4341 S. Westnedge Ave., Suite 2100, Kalamazoo, MI 49008 or Lakeview Schools Education Foundation, 15 Arbor St., Battle Creek, MI 49015. Please make checks payable to L.S.E.F.