Harold P. Chase, Educator
August 5, 1918 — October 21, 2012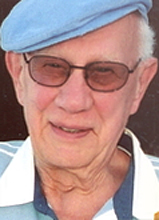 Harold Paul Chase, 94, of Battle Creek, MI, passed away on Sunday, October 21, 2012 at Lifespan Good Samaritan Hospice Residence in Battle Creek, MI. He was a beloved former Lakeview High School government teacher.
Harold was born August 5, 1918 in Munising, MI, the son of Frank B. Chase and Mary R. (Chartrand) Chase.
He graduated from Mather High School in 1936 and enlisted in the Civilian Conservation Corps stationed at Camp Evelyn in Munising. In the spring of 1937, he moved to Ypsilanti, MI where he worked for the Ford Motor Company, River Rouge plant until May 1941.
In June 1941, he was drafted into the U.S. Army and was initially stationed at Fort Knox, KY. He later served in the European Theater until he was discharged in 1945. He was a Private First Class with Company K 423rd Infantry Division during World War II and received the following medals, American Defense Ribbon, American Theater Ribbon, EAME Theater Ribbon with 1 Bronze Star, Good Conduct Medal and Victory Medal of World War II. He was a member of the American Legion Post 131 of Munising and the VFW.
Harold married the former JoAnn Louise Bigger on December 23, 1941 in Ypsilanti, MI. She preceded him in death on August 30, 1995.
After serving in the Army, Harold returned to Ypsilanti and was an office manager for the Ypsilanti Farm Bureau until 1949. He then returned to Munising where he worked at the Peoples State Bank which was later purchased by Chase Bank. He then moved to Marshall, MI in 1952 where he worked in the metal mobile home industry until 1958.
Harold eventually enrolled at Western Michigan University to finish requirements for his Michigan teacher's certificate and began teaching at Lakeview High School, Battle Creek, Michigan in 1961, where he taught American Government. He became the head of the Social Studies Department and was the chairman of the National Honors Society at Lakeview for many years. "Mr. Chase," as he was called by his students, was a cavalier gentleman who found just the right knack for reaching out to students and making learning fun and challenging. He had charisma and a marvelous smile. He retired from teaching in 1978 and moved to the Appalachian Mountains in Tennessee.
After his first wife JoAnn passed away, he moved back to Michigan in 1996. He then met and married the former Karen Krauchunas at St. Joseph Catholic Church on June 8, 1998.
Harold's favorite pastimes were reading, especially anything to do with the Civil War, discussing politics and watching antique shows on tv. He loved the outdoors and could often be found chopping wood, puttering around his workshop, playing cards or traveling. The highlight of each week ultimately became his Thursday morning breakfast at the Big Boy Restaurant which he shared with his teaching buddies. He was also the proud owner of a gun that once belonged to a member of the "Purple Gang." He loved to do crossword puzzles and watch the Wheel of Fortune.
In July of 2012, Chase purchased and surprised his wife Karen with the Quarter Horse she had been leasing for the past two years. The registered name of the horse was My Last Asset and Chase delighted in telling people that he had given Karen his "Last Asset."
Harold is survived by his wife Karen of Battle Creek, MI and numerous nieces and nephews. He was preceded in death by his parents, his brother Burl Chase and sisters Audrey Swan, Leone Fisette and Jean Miller.
Cremation has been conducted and, at Harold's request, there will be a private graveside service with military honors and burial on Friday, November 2, 2012 at Fort Custer National Cemetery. His close friend, Pastor Gary T. Cantrell of the Gull Lake Bible Church, will officiate. Memorial tributes may be made to the Good Samaritan Hospice Residence.
Arrangements by the Bachman Hebble Funeral Service include photos on the web site at http://www.bachmanhebble.com. Fond remembrances or condolence message may be left on the site for the family.
---
Thanks to Jack Hubbard for memorial contributions.