Deane Owen Harsha, Educator & Class Advisor
February 4, 1925 - August 24, 2014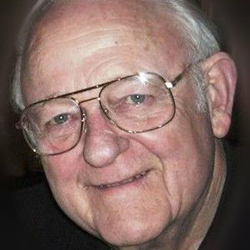 Deane Owen Harsha, 89, of Battle Creek passed away Sunday, August 24, 2014 at Lifespan Good Samaritan Hospice Residence surrounded by his loving family. Deane, the son of Russell and Blanche (Young) Harsha was born February 4, 1925 in Kalamazoo.
He served in the U.S. Army in World War II in Okinawa. Deane received a bachelor's and master's degree in Administration from Western Michigan University and a master's degree in Education from Michigan State University followed by a teaching fellowship at UCLA. He taught at Kellogg Agricultural in Hickory Corners and at Lakeview Schools. He taught French, Spanish and English for 17 years and was a guidance counselor for 18 years, retiring in 1986.
Deane was an active member of the Episcopal Church and was honored with the Bishop's service cross. A 37 year member of the Cereal City Lions Club, he was recognized as Outstanding Lion in 1991 and participated in the club's Friday Honor Guard at Fort Custer National Cemetery for over 20 years. Deane founded the Battle Creek Community Ambassador program that fostered international student exchange and communication. He chaired the program for 36 years and received the 1978 Battle Creek Enquirer's George Award for his work.
He married Maryellen Ward on June 12, 1954, she survives; also surviving are sons, Mark O. (Deborah) Harsha of Vicksburg, Dr. David M. (Dr. Catherine) Harsha of Indianapolis, IN and Robert W. (Cassandra) Harsha of Grand Haven; eight grandchildren and five great grandchildren. He was preceded in death by his parents.
The family will receive friends from 6-8:00 p.m. on Friday, August 29, 2014 at Shaw Funeral Home, 2838 Capital Avenue, S.W. Funeral services will take place at 11:00 a.m. Saturday, August 30, 2014 at the Church of the Resurrection, 2589 Capital Avenue, S.W. Interment with military honors will take place at 11:00 a.m. on Friday, September 5, 2014 at Fort Custer National Cemetery. Memorial contributions may go to the Episcopal Church of the Resurrection or the Cereal City Lions Club. The family is being served by Shaw Funeral Home. www.shawfuneralhome.com
Condolences and Memory Book entries may be left at:
http://www.tributes.com/condolences/view_memories/101624991?p=0&start_index=21
---
Thanks to Steve Clagget for memorial contribution.