Russell John Teegardin
December 4, 1946 - May 8, 2012
Russell "John" Teegardin, 65, of Ceresco died in his home Tuesday, May 8, 2012 after a courageous fight against cancer. He was surrounded by his loving wife and beloved family.

Born to Russell M. and Geraldine (Doyle) Teegardin in Battle Creek, he remained a local resident his entire life.

Russ met the love of his life, Kathleen Eberhard at aged 16 to whom he has been married for the past 46 years.

He worked hard at Clark Equipment for 21 years and went on to retire from Post Cereals in 2004 after 21 years.

Russ was a member of the Civil Air Patrol and enjoyed fishing, watching NASCAR racing, radio-controlled airplanes and camping at Twin Mills near Howe, Indiana with his wife, family and friends. He took great interest in his children, grandchildren and great grandchildren.

He was preceded in death by his father, Russell M. Teegardin; his in-laws, Vance II and Viola (Wright) Eberhard and brother-in-law, Duane Eberhard. Russ is survived by his wife, Kathleen (Eberhard) Teegardin of Ceresco; children, Deborah (Paul) Guthrie of Kalamazoo, Pamela (Mike) Reniger of Battle Creek, Robert (Lori) Teegardin of Bellevue, Brian (Susan) Teegardin of Deridder, Louisiana; mother, Geraldine (Doyle) Teegardin of Battle Creek; sister, Cindy Craig of Battle Creek; sisters-in-law, Shelby Eberhard of Battle Creek, Julie Eberhard of Concord, Michigan; brother-in-law, Vance (Dawn) Eberhard of Battle Creek; 15 grandchildren and five great grandchildren.

The family will receive friends from 2 until 4:00 p.m. and 6 until 8:00 p.m. Wednesday, May 9, 2012 at Shaw Funeral Home. Services will take place 11:00 a.m. Thursday, May 10, 2012 at the funeral home with Deacon Al Radford, St. Joseph Catholic Church, officiating. Interment, Memorial Park Cemetery.

Memorial donations may go to the Livestrong Foundation (https://www.livestrong.org/donation/).

---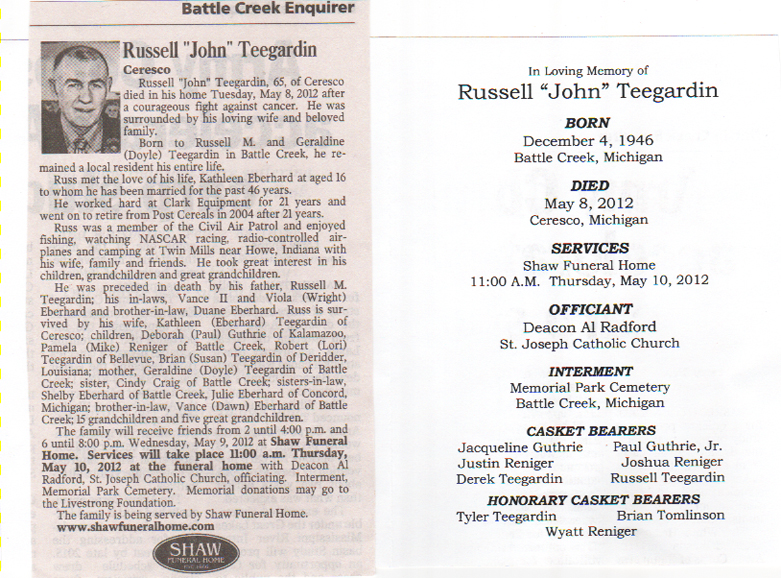 ---
Thanks to Jack Hubbard for memorial contributions.