Suzanne "Suzy" K. Trepod
May 7, 1947 - April 19, 2012
Suzanne (Suzy) K. Trepod, 64, died Thursday April 19, 2012 in her childhood home in Battle Creek. Suzy was born on May 7, 1947 in Battle Creek to Herschel and Lareene V. (Hamilton) Trepod. She was a member of the First Congregational Church.
Suzy graduated in 1965 from Lakeview High School and Central Michigan University with a Bachelor Degree in Education. She retired from Croswell Lexington High School after teaching Physical Education and Mathematics after 40 years of service.
Suzy loved sports, coaching, officiating and was a Board Member on The Thumb Meet of Champs. She was a volunteer for Blue Water Habitat for Humanity Women Build, mission trip to Louisiana after Katrina and Extreme Makeover in Armada, MI. She enjoyed her loving pets Rosey & Tucker. Suzy was an avid golfer and white face clown. Her great sense of humor and many friendships will be missed.
Surviving siblings are Gary A. Trepod of Good Hart, MI and Scott M. Trepod of Gales Ferry, CT, one niece and three nephews.
Visitation will be held at the Richard A. Henry Funeral Home from 10:00 am to 11:00 am Monday April 23, 2012. Funeral services will be held 11:00 am Monday at the funeral home with Rev. Tom Ryberg officiating. Interment will follow at Memorial Park Cemetery. A Memorial Service is to be held in the near future in the Croswell Lexington area.
Memorial contributions may be made to Suzy Trepod Fund at Croswell Lexington High School, Habitat for Humanity or Humane Society of South Central Michigan.

---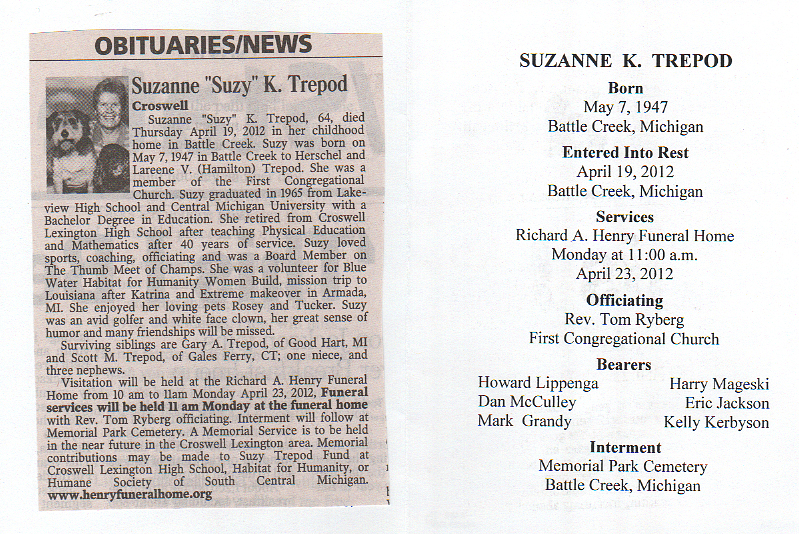 ---
Thanks to Karen Jensen Black and Jack Hubbard for memorial contributions.