Lynn E. Wallace, Educator
July 4, 1930 — April 10, 2013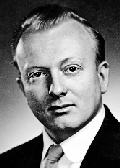 Lynn E. Wallace, age 82, of Battle Creek, died Wednesday April 10, 2013 at the Good Samaritan Hospice Residence.
Lynn was born on the Fourth of July, 1930, in Grand Rapids to Seward and Bernice (Haug) Wallace and has lived on his family homestead in Barry County for most of his life.
Lynn was a 1947 graduate of Hastings High School and entered the US Army in 1951 and served during the Korean War as a medic.
He married his childhood friend Shirley E. Rial in 1955.
Lynn received his Bachelor of Arts Degree in Education from Western Michigan University in 1957 and his Master's Degree in Education in 1959 from WMU. He began teaching history and government at Lakeview High School in 1959. Lynn coached the debate team, supervised the audio-visual department, chaperoned many dances, instructed driver's education for 38 years and was the "Voice of the Spartans" announcing nearly every sporting event at the school from 1961 to 2009.
Lynn was a member of the American Legion and Lakeside Baptist Church and enjoyed attending Lakeview High School reunions, meeting and talking with former students.
Lynn is survived by his wife of 58 years, Shirley; a son, Mark (Debbie) Wallace of Battle Creek, a daughter, Kim (Paul) Bessler of Climax; grandchildren, Michael Wallace, Josh (Ashley) Wallace, Jon (Jenny) Bessler, Kallie (Jeff) Machan and Shelby Bessler; a great grandson, Gavin Wallace.
The family will receive friends from 2:00 to 4:00 PM and 6:00 to 8:00 PM Sunday at the Bachman Hebble Funeral Service, 223 N. Bedford Rd. Funeral services will be held 11:00 AM Monday at the funeral home. Memorials may be given to the Lakeside Baptist Church or the Salvation Army. Memorials may be left on Lynn's webpage at www.bachmanhebble.com.
---
Thanks to Jack Hubbard for memorial contributions.