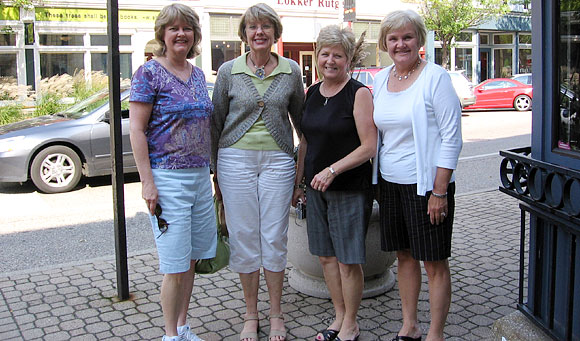 GAL PALS
Meeting for a mini-reunion in Holland during September were (l-r) Ruth Williamson Person, Joy Deal Derengoski, Judy Vande Vrede Warmington and Judy Bosscher Kurt.
Sam Lanham and his wife Jane, often found cruising the world, are pictured enjoying a scenic view in northern California.
Clockwise from upper left: 2 photos from Marine Corps Vietnam Tanker Assoc. reunion in Las Vegas; Bob, granddaughter and oldest daughter at Marine Corps Museum in VA; scenic shot in Seattle during travels.
Semi-retired classmate Bob Vaxter says that when he's not golfing, he enjoys fishing for salmon, deer hunting and spending as much time as possible with his granddaughter. The former police officer and fireman enjoys visiting friends around the country and would like to hear from classmates.